Hello to one and all and a very warm welcome to our second whisky update of 2021, a year that is fast becoming the remake of groundhog day with Bill Murray's role being played by 2020 ( I am writing this on the actual Groundhog Day 2nd February)
No wonder we drink!
Well for all our current state of perpetual lockdown which has thrown us back to March of last year (now with added winter weather) we have had a fairly hectic start to the year.
First up in this issue is a massive thanks to all of you who have joined us over the last month for yet more of our on line tastings with all of us gathering at the virtual bar that is Zoom to sample a dram or two of what we do best with a mix of not only our Christmas release but a good showing from the Autumn release and even a cameo from our first ever Glen Garioch (yes the badly spelt one) taking a final bow.
The early birds to hit the bar this month also sees the largest on line tasting that I have had to date with 3 Belgian whisky clubs coming together for a wonderful night tasting 7 cask strength drams from all three Dràm Mòr releases.
This is where it is perhaps a good thing for once that some of these tasting events are on line and from the comfort of your own home as of the 7 drams sampled the soft drink on the night was coming in at a very skinny 54% alcohol thus being within staggering distance of your own bed is no bad thing!
On this night we were joined by an incredible 55 whisky enthusiasts for what turned into a brilliant night and I must say that members of The Malt Mates, McShelfie and The Friends of the Quaich were an absolute joy to host and would be welcomed back in a heartbeat.
A special thanks to Berry Van Rijsewijk and Pieter Sap for giving me the opportunity to share our passion with their members and it goes without saying that when it comes to Belgium there is always one man behind all the organisation of these events and without our whisky Godfather, Jürgen Vromans of The Whisky Mercenary none of these events would be possible.
Not only was a good night had by all but the generosity of the attendees saw a swell in funds on our GoFundMe page so many many thanks for that and I will make mention of this later in the update.
Next up for a dram are a group of Lads and Lassies who are no stranger to my nonsense as we warmly welcomed back my friends from London, The one, the only SE23 Whisky Club led by Bulgaria's best Nikola Runev.
Once again we were going large with another 7 dram line up, this time covering our last two releases.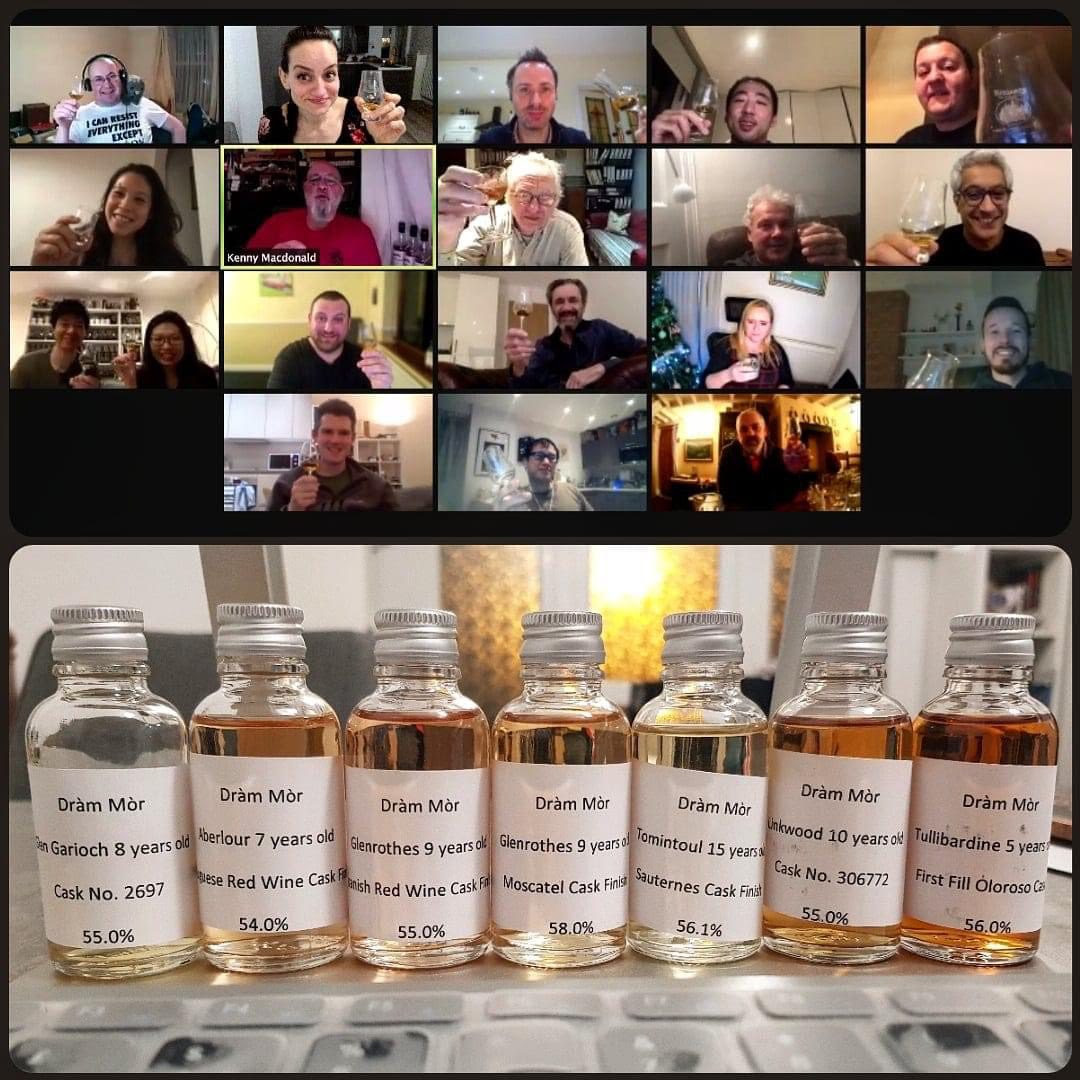 It was so good to get the chance to catch up with all of the Guys and Galls and I'm sure that working from home the next day was very much appreciated as there my have been a sore head or two the next morning.
On the mention of appreciation can I just say a special thank you to Philip Storry who took the opportunity not only to enjoy a dram or 7 but to use the night to help promote the fighting fund and our ongoing legal dispute with Morrisons Scotch Whisky Distillers over the use of the common Gaelic word Mòr.
Not only was it incredibly kind of him to make everyone aware of what is being done to us behind the scenes but the kindness and generosity of the members of SE23 has been incredible and also very humbling just as it has been with our Belgian friends and I will thank you all later in this update.
The final virtual tasting of this month again sees some old friends coming back for a second helping and we are off to the warm climes of Singapore and our Far Eastern Angel, Zerlina Zhuang of Spirits Castle who brought friends old and new together to have a look at our 3 Christmas releases.
On this occasion yours truly had to be a bit better behaved and show that famous Macdonald restraint (aye right!) as drams were poured at 12:30 UK time.
Once again some wonderful generosity on the donation front and again we cannot thank you all enough folks.
We did have one wee conversation during this tasting that made me laugh and I felt it was only right to share this with you so many thanks to our friend Jonathan Wee who, while discussing the best time and place for our Tullibardine 5 year old sherry bomb informed the group that it was great for this time of year in Singapore as nights had been getting "really cold" out there at this time of year.
Thankfully I have a spy on the inside of this group with my Scottish secret agent Sarah being able to put some meat on the bones of this chilly tale.
21c! Yup, that's what passes for a cold night in Singapore folks!
Moving away from virtual tastings but staying in the on line world (is there any other?) I need to say a great big thanks to our great friend Justina MacLennan who has the great misfortune to be next door neighbours (literally) with Bowmore Distillery who very kindly asked if we could add an interview with me to her excellent blog My Scotch Diary.
She is no stranger herself to our national drink as Justina works for the whisky giant Diageo, normally in Caol Ila although currently working out of Lagavulin as works are ongoing to redevelop the visitor experience at Caol Ila.
I am very happy with the finished article so feel free to have a read and if ever you find yourself in hot weather whilst warming the kilt don't chose the cool down option that I did!
Next up we say hello to some new stockist of Dràm Mòr Single cask, cask strength whiskies both at home and further afield.
Home first and a warm welcome to my friend Tatsuya Minagawa of The Highlander Inn in Craigellachie who (by now) should be in possession of their first ever bottles for Dràm Mòr.
On our travels next and a quick stop off at Best Of Whiskies, Bussum in the Netherlands and a big hello to a great friend of Dràm Mòr Group, Mr Nils Van Rijn.
Our last new business to welcome aboard this month will see us heading to Germany and the town of Büttelborn where if you are ever in the area you can now pick up a bottle or two from us at The Mash Tun Whisky Shop.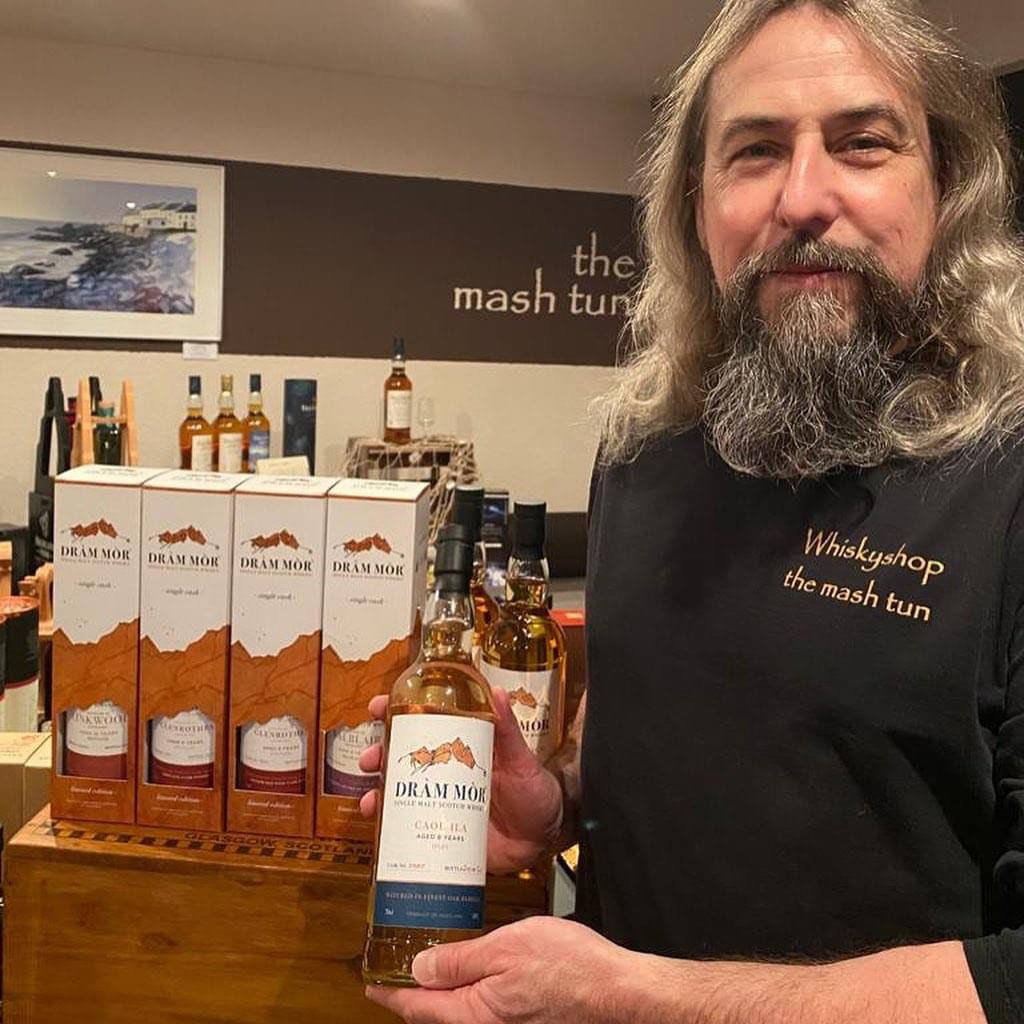 To all of you please my I extend a very warm welcome and many thanks for showing faith in us and believe us when we say that as soon as this horrible situation changes and we are allowed once more to travel, we will be out to see you and hopefully to share a dram with some of your clients.
Just to let you know that on the home front the Aladdins Cave of whisky that is The Artisan Restaurant in Wishaw have now got our last release in stock but now just like that cave of Aladdin's it needs the magic worlds to open the door so are things with Scottish hospitality venues and we wait and hope that it will be sooner rather than later when we get the chance to be spoiled rotten once again by the great hospitality of Derek and Fiona Mather.
Hope to see you back soon guys!
Other mentions must go to the great team at Tensu Bar in Helchteren, Belgium and my favourite spot to be in the beautiful Old Town of Vilnius, King & Mouse where my good pal Šarunas continues to support us all the way.
We have once again been really flattered by some of the reviews of our drams in the last month and thought it only right to share these with you.
A good one to start with is Angus's Corner in Whisky Fun taking a look at our Linkwood 10 year old heavily charred ex Bourbon cask as we are going head to head with two other Independent bottlers releases of Linkwood where we are pitched against the mighty Gordon & Macphail and The Single Malts of Scotland Linkwoods.
Many thanks also to the educated palettes of Mr Steve Tan of A Journey with my Palate and Andrew Burleigh of Scotch Savvy who came together to have a look at our last three bottlings.
These lads know their stuff so it was lovely to get this kind of revue from them.
Where would we be without mentioning a few true stalwarts of Dràm Mòr.
As always our gratitude goes to Neill Murphy, Rod Morrisson and Menno Greet for once again casting an experienced eye over our humble offerings.
Last but certainly not least we welcome our first revue from Alphabet Whisky and our good pal Oren Zohar.
Many thanks to all of you.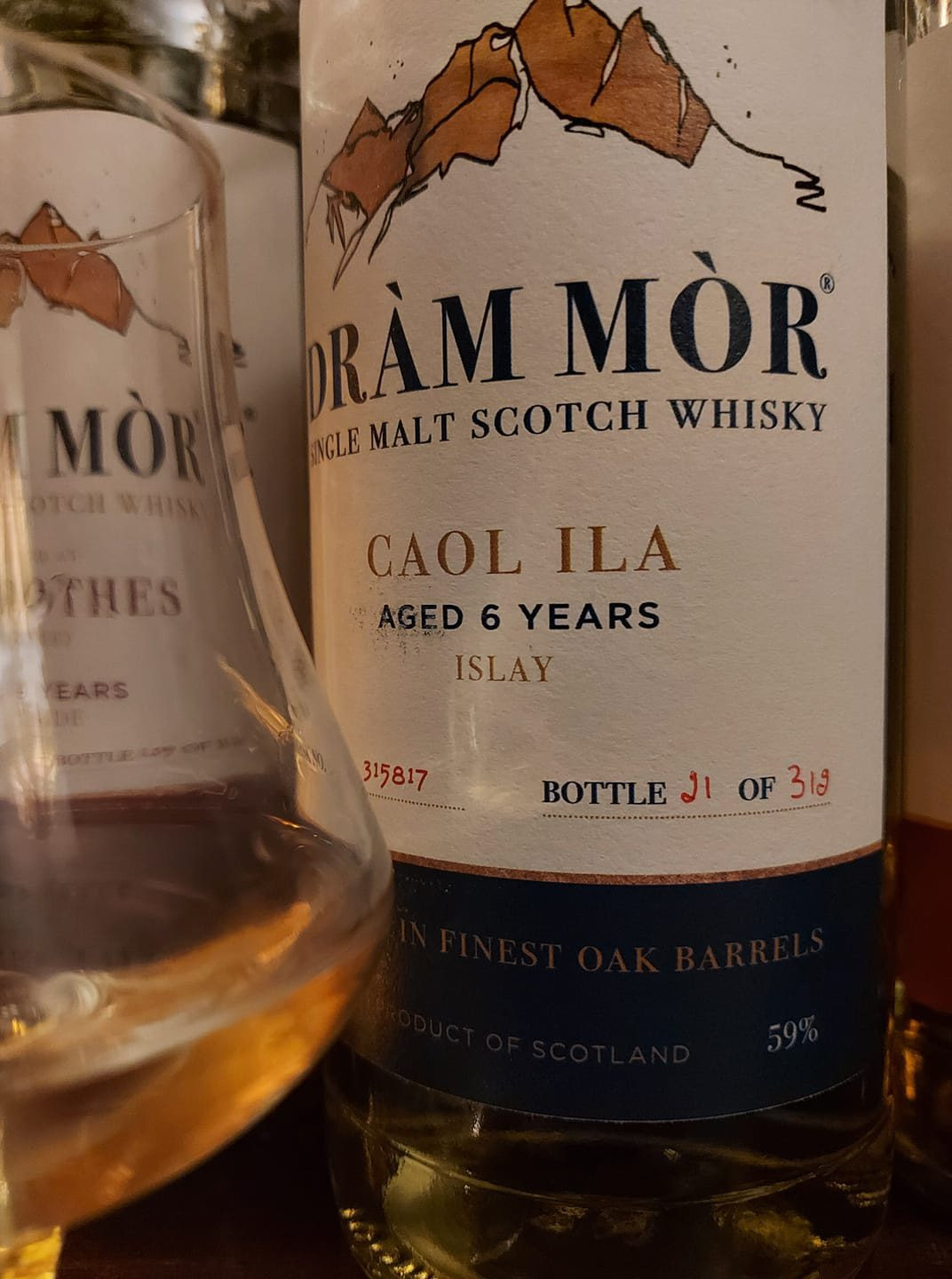 A few nice shares on line to mention this month as people continue to bang the Dràm Mòr drum with their social media snaps so hats off to Kask Whisky (thanks Justine), David Zibell of Golan Heights Distillery in Israel and John Connolly with a wee picture with the Tullibardine.
Over the next few weeks we will be having a hard look at what you can be exception from our fourth release which we hope will be making an appearance in the Spring and depending on how confident we are feeling after having the next sampling run I might even be able to start dropping some hints.
The one thing that we really want (and need) to do this year is firstly up the output so that more of you have the chance to get your hands on the bottle that you want and secondly we need to increase our domestic visibility as currently we are very difficult to find in the UK so more to come on that next month.
For those of you who have found it hard to get your hands on our drams please accept our apologies and know that we are working hard to put that right in the future.
Last word for this month goes to those of you who have given us more help than you know by putting your hands in your pockets and donating your hard earned cash to our fighting fund.
There are no words to say how much you mean to us and the gratitude we have to all of you and one day we very much hope to pay you back for the support that you have given us.
In no particular order a heartfelt thanks goes out to………
Ade Lindsay, Robert O'Neill, Olaf Manns, Gary Thornton, Sean Dhadialla, Matt Radford, Terry Leung, Tommy Kan, Nadia Tosheva, Nikola Runev, SE23 Whisky Club, Whisky Club McShelfie, Hendrick Laureys, Jan Van Cotthem, Bert Van Gestal, Greg W Swartz, Aedan Burt, Carla Doyle, Ruaridh Jackson, Allan Thornley, Iain Connelly, Scott Martin, Jarrad Luko, Juliette Buchan, Ben Attfield, Algirdas Chocianas, James Smith, Paul McDonagh, Paul Chambers, Nicole Quednau, Gary McLellan, Magnus Fagerström, Paul Dempsey, Zicong Yang, Wendy Phua, Eric Schroyens, Jordan Van Dyck, Lamberto Lamarina, John Rippon and Mike Woodward-Gregg.
To each and every one of you please take a bow!
It has to be said there there are many names not on the list as we have a great deal of anonymous donations to all of whom we also give our warmest thanks.
If I have missed your name please let me know as we have a few ideas on how to thank everyone properly once this mess is out of the way and that goes to our anonymous friends too so if any of you are reading this please feel free to get in touch so I can add your name to my list but that one will be a private list.
So, lots of thanks this month as always and as I sign off just remember that without all of you there would be no us.
Till the next time stay safe.
Slàinte!
Kenny