Another month has rolled by and once again I've taken my finger off the pulse and I'm way late with this update. I must still be on Caribbean time! So what's been happening since last we spoke? Quite a bit is the answer and I'm going to start with the release of our first high end dram, our Tobermory 25 year old, lovingly finished in a stunning 1st fill Calvados cask. Each of these individually numbered, engraved and hand filigreed bottles comes in a hand crafted solid oak frame made by the talented hands of our friend Reggie Goodbody in Ireland. A massive thanks to both him and the team at Glencairn Crystal Studio for the deluxe packaging to fit a deluxe whisky.
A beautiful marriage of vanilla, apple, cinnamon, zesty spices and oaky warmth this is a dram that once opened is difficult to put away. We hope as many of you get the chance to try this wee beauty. It's available at the Good Spirits, House of Malt and Master of Malt.
Next up we had our first international festival in the last two years. The picture postcard city of Luzern in Switzerland was the destination that I should have been at, however, due to a change of travel date courtesy of British Airways cancelling our flights, I managed to double book myself and although Luzern is undoubtably stunning, the pull of Barbados just pipped it to the post. Thankfully, we have good friends and we were delighted to have the charismatic figure of Mr. John Kennedy take a step back into the world of whisky were he spoiled attendees with a wide and varied selection of Dràm Mòr bottlings, which I'm delighted to report, sold like hotcakes. Many thanks to John for agreeing to represent us and we are very much of the hope that this won't be his last time behind a Dràm Mòr desk!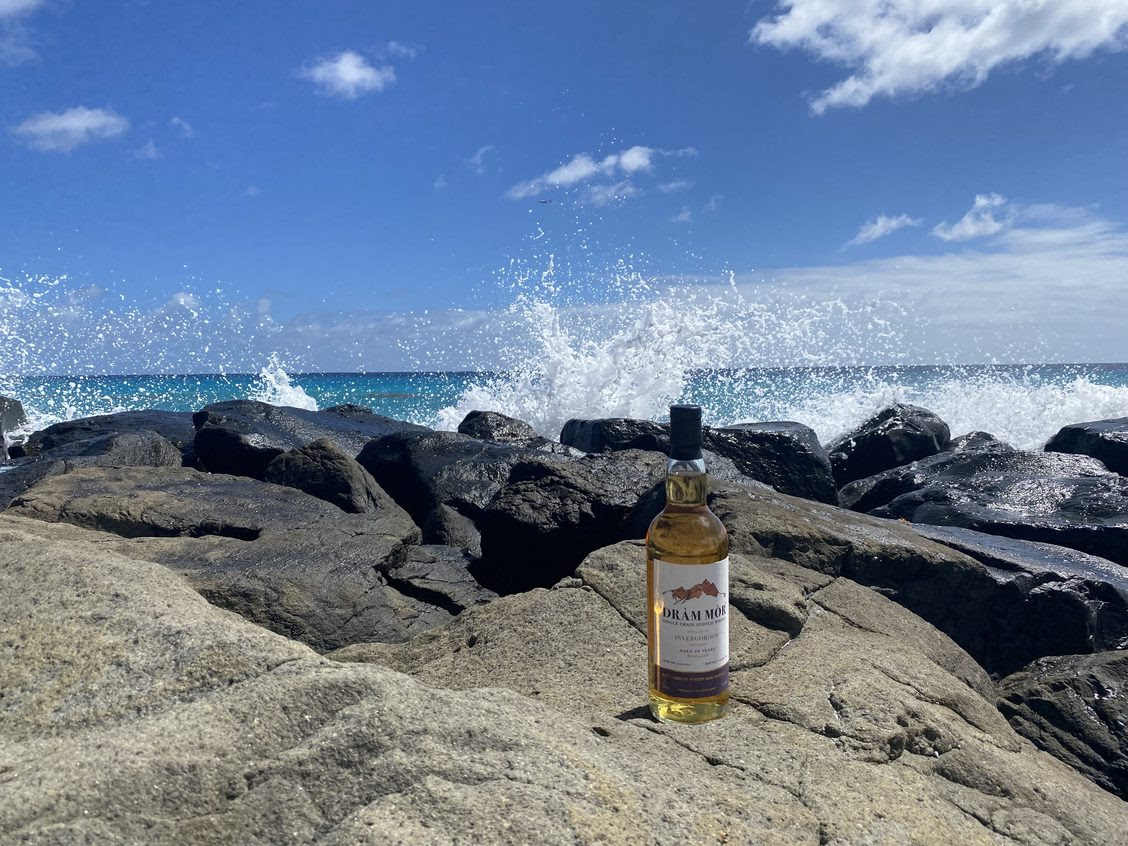 Now back to Barbados (if only so we can drop in a few pictures of turquoise waters1). Much as the island is a tropical paradise, we were there for a reason and that was to meet one of, if not the most influential producer of high quality rum, Mr Richard Seale of Foursquare Distillery. What an incredible day we had with Richard who very kindly took a huge chunk out of his busy schedule to give Viktorija and I a full guided tour of the production, bottling and warehousing of Foursquare followed by a good few stunning rums from the portfolio as well as a wee special something just for fun. Both of us were already big Foursquare fans and this visit has very much Sealed the deal if you get my drift. Another massive thanks to Richard and we hope our paths cross again at some stage sooner rather than later. Next mont we are planning to release a Foursquare to support Ukraine's fight for freedom, so keep an eye on this release!
Moving on there were some cracking tastings last month starting off with great friends of Dràm Mòr at the Tensu Bar in Helchteren, Belgium. It's a privilege to be able to run a second zoom tasting for them, which was well attended and it would seem, well received. Many thanks once again to all the whisky lovers gang and I am keeping my fingers crossed that the next time we do this it'll be face to face. I need to put some money behind their bar by way of thanks after all!. I was lucky enough to have a fist time session as well last month to report. Darko Dramz in Germany are next up who were treated to a mix of new release Dràm Mòr drams as well as some long lost friends that were lovely to revisit. Many thanks to all who gave up their time to enjoy a dram or two and listen to my nonsense.Hope to do it again one day and we appreciate the continuous support after the tasting on social media with photos and tasting notes.
Thankfully, it's not just yours truly who conducts Dràm Mòr tasting these days and with that in mind we're back over to Belgium where some of our biggest supporters as well as family friends, Geert and Claudine Ros took the time to welcome some new friends as well as some who are more acquainted with yourselves to what we have to offer. It is so heartwarming for us to see the belief that others have in us and it swells us with pride to know how well Geert and Claudine represent us. Now these are two folk who I can't wait to get a catch up with! There's been quite a bit of activity on the critic front in the last month with both whisky and rum coming under the knowledgable gaze of a few well kent names in the industry. Our old pals at Whisky Fun have been very busy (as always) and we came into their radar a good few times in March with our Inchfad 14 year old receiving 87 points, Deanston 84 points, Glenrothes 9yo in Madeira picking up 83 points. We also had the privilege of having both our Clarendon and Foursquare rums reviewed with Clarendon scoring 90 and Foursquare a great 85 points. Also, massive thanks to Wes of the Fat Rum Pirate for his very detailed reviews of all our rums that we thoroughly enjoy reading and learn more about rum with every of his posts.
A big thanks to Whisky Reviews who were good enough to to look over a few of our drams with our Blair Athol being compared to 'a liquid hug'. Can't really look for better than that! A new reviewer to us is Watch, Taste, Smell who kindly cast an eye, nose and mouth over our Clarendon which seems to have left them with a smile on their faces. Great to have you on board. Many thanks to all of our reviewers for their honest opinions from which we take the positives and any constructive criticism in equal parts as it's the only way that we can progress and get better and better at what we do. To round of this edition of our newsletter site would like to salute, as always our on line fans who are kind enough to post a thing or two along with their snaps of all things Dràm Mòr. First up is our old pal Gary 'Drams' Dunsire who was lucky enough to get his hands on our Glenrothes Amontillado cask finish. Looks like it went down well Gary. It's over to another great pal Aiste Zavadskyte who was lucky enough to find herself in the warm embrace of the Pot Still a few weeks back. Plenty Dràm Mòr bottles in there to pick from and Aiste plumped for the 9 year old Glenrothes in Spanish red wine from a few out-turns back. Glad you enjoyed it my friend!
One more for this outing and it's a newbie for us as we welcome on board The Tipsy Sassenach who beautifully describes himself as a 'Hauf and a hauf guy' (love it!) Well, he chose to wrap his taste buds around our belter of a Williamson, which at only 6 years old will make you instantly think of much older, much more expensive Islay expressions. A massive thanks to all who contributed and please accept my apologies if I've not mentioned you this time round. It doesn't mean that you are not appreciated. You most certainly are.
That's us for another ramble through the month and as of next month I hope to get back on track and have this out sharpish so you'll be hearing from me soon. Until then, stay safe. Be kind to each other and keep enjoying life with a dram!
Slàinte!
Kenny