Hello to one and all and welcome back to my reflections of where the last month has taken us. This will be the 5th Whisky Update of the year, which I have to say I am struggling to get my head around. Where is this year vanishing too? At this rate it will be the blink of an eye and I'll be digging out the Christmas decorations again!
So what have you missed since our last wee chat? Well, things here at Dràm Mòr Group Ltd. have been forging on as ever with a focus on more and more casks to allow us to keep up with the demand for our single cask bottlings which are growing in demand and reputation day by day. It gives us the very healthy problem of being constantly sold out even before we go to bottling albeit that goes for distributor orders only. If you are lucky enough to be in a country where we distribute then our Spring 2021 release will be winging its way to you in the next few weeks all going to plan (spoiler alert: nothing ever goes to plan!). Last month, we said a big hello to our new friends in Canada who will be distributing Dràm Mòr over the pond for us and we are very close to saying "Gidday" to our new Australian Distributor as well as a great big "Neih Hou" to our new friends in Hong Kong who will be taking on the same roll for us so the need for more casks has never been higher. Lastly, on the market front its a big "Hej" to our friends in Denmark, who have not long received their first order from us so welcome on board guys. Watch out social media to find out where in Denmark our bottling will be available. Oh, while I am talking about deliveries arriving to destinations I need to tell my friends in Lithuania that King&Mouse in Vilnius Old Town are now in receipts of their latest order. We're are delighted to have Šarunas Karalius looking after us out there and a wee trip over to say hello to all our pals is very much first on the list when international travel starts again.
The one thing that we have covered before is the difficulty in getting our bottles in the UK. We are very aware that the amount of UK supply has not been even close to being enough for the demand out there, so with that in mind we are aiming for a UK exclusive release later in the year which we hope will be replicated at least twice a year there after so stick with us folks. On the on line tasting front it has been a quieter month with only one virtual get together. That said it was a belter! I was very fortunate to be invited to present our drams to over 120 people from a very eclectic geographical background on the 4th of April. This was courtesy of the wonderful Katharina Böhm and John Farley of The Irish Cottage, the Irish Castle and the Thirsty Baker in my beloved Nuremberg. On the night, we worked our way through our twin Glenrothes casks of Spanish red wine and Moscatel, the 8 year old Balblair finished in PX, our wonderful 10 year old Linkwood in that now famous heavily charred cask and finishing off with another favourite and the baby of the group, the Tullibardine 5 year old. This was one of those nights, where I could have stayed on line for ever, but all good things come to an end and when the dust settled it was too close to call for a winner with Linkwood and Tullibardine sitting neck and neck but votes coming in across the board for all the nights drams which was incredibly heartwarming to see. I cannot thank Katharina and John enough for making me so welcome and for giving me the opportunity to reach out to a new group of Dràm Mòr fans.
Moving on from the tasting side of things, but staying on line (like there was anywhere else to go during April), we had a couple of very welcome reviews. First up on the review front was our old friend Mark Gillespie of North America's finest whisky pod cast Whiskycast where our 15 year old Tomintoul was on the receiving end of a monumental score of 92/100, so as always, Mark, many thanks for taking the time to review our drams and we can't thank you enough for the massive score. On the 20th of April, we were delighted to read a very flattering review from Serge Valentin on Whisky Fun of our Aberlour 7 year old. Not only were there lovely comments passed on our whisky, but Serge took time to say how much he loves our label which is something most people just skim over. When launching our bottles we spent a long time tweaking the design of our label and a huge amount of credit has to go to our good friend and Cask Clan member artist Iveta Smidtaite, and the attention to detail from our designer Joanne Smith. Hence, it is great to hear that the label design was well done and is well received by such acclaimed whisky critics as Serge.
Not much more to cover this month other than to say a massive "hello" to all our new Cask Clan members, of which there are a good number as cask sales have continued to grow through the year. It is wonderful to have you all on board and we look forward to bottling your casks hopefully one day. Lastly, we have to acknowledge all our keyboard Clan fans, who have posted some marvellous snaps from their ongoing Dràm Mòr journey, especially Kevin van Cleemput. It is so good for us to see you guys all over the world enjoying the fruits of our labours. Every time we see one of these posts it puts a smile on our faces but not only are you keeping us extremely happy, but you are helping us spread the love of all things Dràm Mòr, so thank you so much.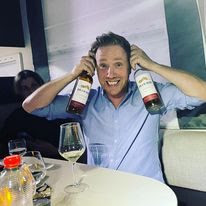 Well, that's about that for yet another of my ramblings. Let's hope for some good weather in May as we still have a few weeks of beer gardens before the pub door opens properly. That said keep in mind we still have to tread carefully so staff safe, look out for each other and every now and again raise a glass to all of your whisky family far and wide.
Till the next time from Viktorija, Ruaraidh and myself…..
Slàinte!
Kenny