Well, that was a fast month, was it not! It seems only days since I last sat down to write our update no. 9 and in the blink of an eye here I am putting virtual pen to paper on number ten. I think that the month has gone, so quickly as there has never really been a spare moment as the Dràm Mòr machine continues to pick up speed.
Our first stop on the March roundup sees us cross the pond and say a big hello to our new Canadian friends and new distribution partners. More details coming as soon as our first orders will start heading across the ocean.
We are going to stay on the other side of The Atlantic for my next piece as we welcome to the Dràm Mòr Cask Clan not one, not two but incredibly eight new Clan members from around the New York area have come on board this month. I have had the pleasure of being able to meet with them all on line and nicer lads you couldn't find. One member has come on board with the intention of bottling his own beautiful Glen Elgin cask for friends and family eventually under their own family label which we will be able to help them design.
March has been another busy time for on line tastings kicking of with a cracker on March the 1st where I was honoured to be asked to host a Dràm Mòr tasting for the wonderful folk from the Whisky Society Waterland from the Netherlands, which saw our deep charred Linkwood 10 year old just top the young Tullibardine 5 year old to dram of the night. The one thing that never fails to impress me is the wealth of knowledge on show during these sessions (obviously, not from me, right enough) and the camaraderie and welcoming attitude of people who I've not met of different ages, gender and backgrounds. Loved this tasting and a massive thanks as always to our great friend Jürgen Vromans of the Whisky Mercenary for organising this tasting and to Hans Glandorf for sharing his picture of the night.
Next up was one that for once focused on Viktorija and not muggins here. Glasgow's own the Good Spirits Co. hosted a tasting on March 5th celebrating women whose role in the spirits industry has brought some incredible drinks to our glasses. The Spirited Women tasting initiated by Sarah Erskine looked at wide spectrum of spirits with Viktorija being the much more acceptable face of Dràm Mòr for the night. Delighted to say that by the time many different spirits had been sampled and many different stories had been told the popular vote on the night once again saw our Linkwood 10 year old walk away with top slot.
While it was nice to hand the rains over to Viktorija for the night, it wasn't long before I was back in the hot seat. When I say "not long" it was actually the next night that I was delighted to welcome back my good friends from Nuremberg's Highland Circle. These are lads that both Viktorija and I know really well as our own Mòr Whisky Club is formally twinned with The Highland Circle. This was a relatively modest session with four drams being sampled rather than the sixes and sevens that have been the norm for the last few months. No bad thing as I found that I was actually able to get up the next morning feeling semi human! On the night our Linkwood had some serious competition with Tullibardine 5 year old in 1st fill Oloroso holding it on the night and forcing a draw.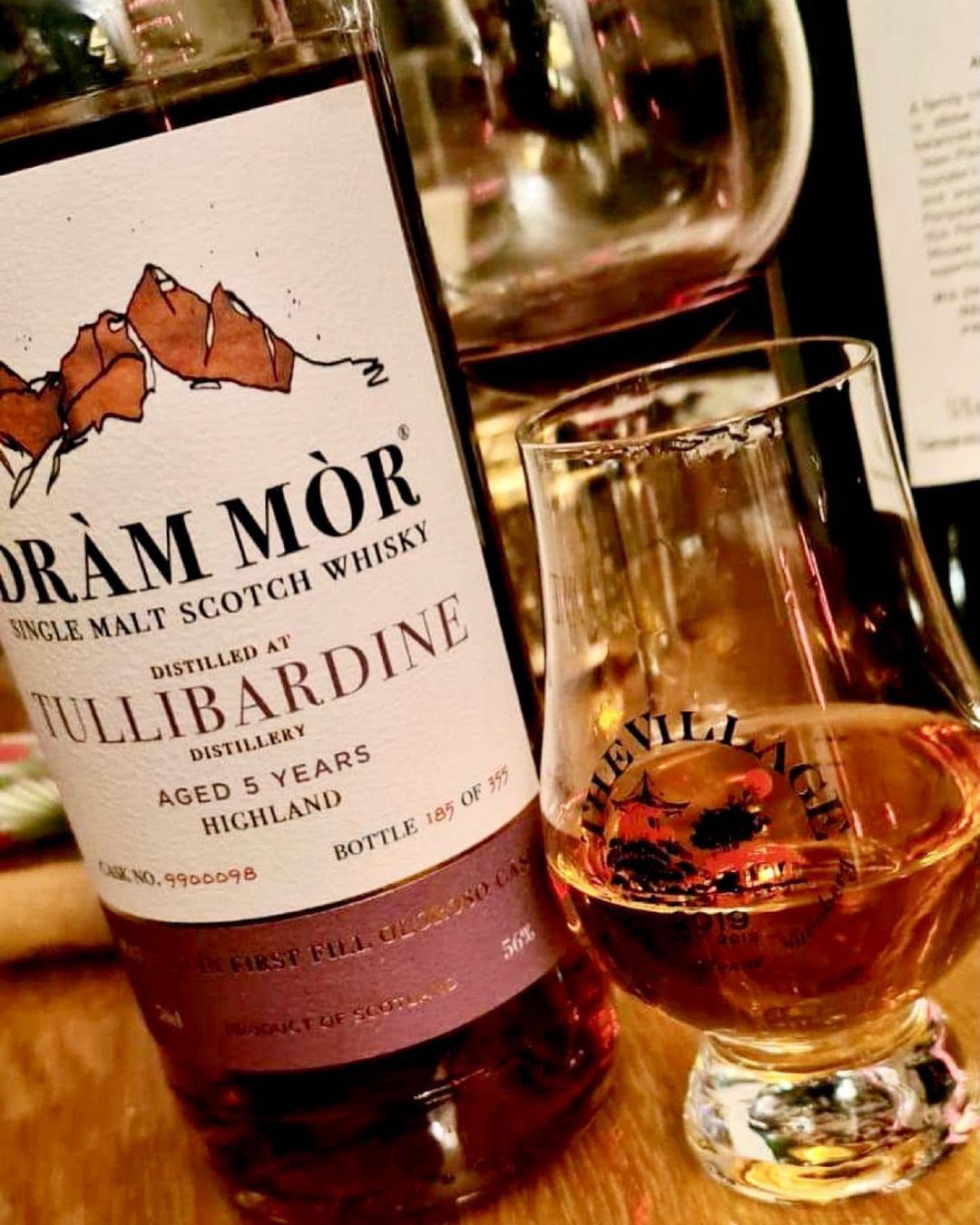 Tonight sees the month finish as it started as we're virtually off to Belgium again to welcome the Maltclan with a full set of Dràm Mòr drams to sample. Once again Jürgen has be integral to getting this up and running so once again, hats off, sir!
The main thing to talk about this month would be our Spring releases. As things stand there will be six releases; however, possible additions haven't been ruled out. These will be an all new line up with distilleries that we haven't bottled before. I'm not going to spill all the beans today as it's always nice to keep some of my powder dry, but it seems only fair to give you a taster (not literally, sadly) of what's coming up. First, we are heading to the far North, where we will be bottling a "secret" Orkney. Well I wonder what that could be? This is a cask that comes from 2008 and will be 13 years old at time of bottling. It has spent most of its days in refill ex-bourbon with it moving into a fresh Fijian rum cask some 9 months ago. This will bottle at a strength of 54.6% and I can promise you, it's gorgeous!
The next up sees a return of some peat smoke. This has been difficult to get over the last wee while. Well, when I say difficult, there is plenty there, but the prices are ridiculous and even for young Islay we would see a bottle price creeping into the three figure mark, which we would rather not do. With that in mind, we have turned our attention to Inchfad from Loch Lomond Group, which has been finished in 1st fill PX for six months. Just wait till you try this one! This cask is a 14 year old at time of bottling and will come to you at a natural 54.7%. One very learned friend on trying a sample likened it to a 1996 Bowmore, so that shows you the kind of quality that's heading your way. The last of our teasers will see us bring something different to the table with the release of our first ever single cask, cask strength grain whisky hailing from the now lost Dumbarton Distillery. I don't know about you, but I love a good single grain and the minute I tried this one it was a no brainier to move this one up the line to bring it to bottle. It is an ex-bourbon cask as most grain spirits are, which works beautifully with the silky sweetness of this dram even at 52%. The fact that it's a Dumbarton makes it all the more special for us as the town is the home of Dràm Mòr. There are some other wee beauties waiting in the wings, but we can talk about them closer to the release date which will be in May, so start saving your pennies!
On the mention of the Old Dumbarton distillery, I need to say a big thanks to Ruaraidh for the wonderful content and quality of his bi-weekly posts that you can see on the Dràm Mòr Cask Clan Facebook page as well as LinkedIn. These posts are a wonderful read and are really starting to gain the kind of attention that we could only have dreamt of when we ask Ruaraidh to take this on with many industry professionals now tuning in and passing comment on these posts. The one a few weeks ago on Dumbarton Distillery taught me a few things and last weeks introduction to the Scotch Watch was brilliant. If you're unsure on what or who the Scotch Watch are, why don't you have a look on line at his post. Good old Mr. Ballantine 🤣
To finish off this months update we need to squeeze in a few thank yous as always. Firstly, we would like to thank Vineet for his investigative work following the Scotch Watch post as he went looking for some possible former members. Good work, sir!
The next thanks goes to my good friend Piotr Stachura from Kęty in the south of Poland who is the brains behind the wonderful site Whisky My Life. Not only has he publish a brilliant article on our bottles in the past, but this month saw a very professional and informative article on Viktorija. Once again, I am delighted to see her getting some of the massive credit that she deserves for our success, so I am very grateful to Piotr for taking the time to write and publish this. Many thanks, my friend.
A couple of nice wee pictures popping up on social media featuring folk enjoying a dram or two of ours so many thanks to Kristin Kotzur, Bernard Schäfer and Lucas Kieninger for keeping our bottles on screen and as always a huge thank you for the continued support folks.
Well that's us for another month. The clocks have sprung forward unless you do what my Mum did this morning and turned them the wrong way. She was telling me she was then confused that she was wide awake at 5 am and my Stepdad was taking the dog for a walk. I'll put it down to old age 🤣 That aside, the evenings are lighter and the days are longer with the promise of summer heading our way. A summer where it looks like (in Scotland anyway) we might get the chance to entry the hallowed ground that we used to call "a pub" back in the old days. Oh what I wouldn't give for a fresh draught pint and a good dram.
Soon folks….soon. Until the next time as always, stay safe, take care of each other and keep on draming.
Slàinte!
Kenny